Experience Hippie Bikini like never before!
HB this is a special costume for a sexy girl.
Estrella is also a model face of the product of our cooperative – the Hippie Bikini product.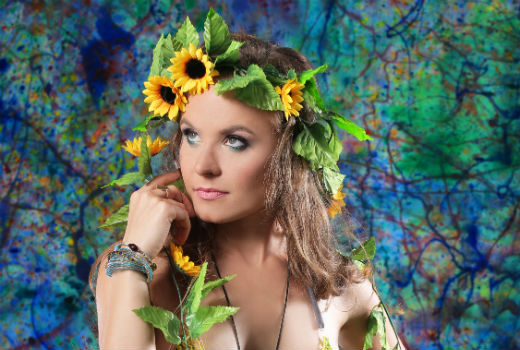 HIPPIE BIKINI this is very sexy, hand-made costume from beads threated on fishing line, unique with a certificate of originality Presented and recomended by ESTRELLA – Brand Ambassador – HIPPIE BIKINI – MY OBSESSION!

We want to present you a wonderful costume for a wonderful woman who will highlight the charms and display her biggest strengths. The softness and sweetness of the bust and the deep thirst for a hot womb. We want to let you experience the fullest and most exciting sexual satisfaction that cement your sacramental marriage. They will also ignite emotions in a free relationship. During the Sexual Revolution, in the mid-century, barchanas were replaced with a scant costume. Today we will go further and replace the opaque material with an openwork pattern of glass beads threaded on a line. These beads are a traditional element of hippie aesthetics. Fabulously colorful patterns and very economical covering of the most beautiful parts of the female body. Each element made by us is an individual work created by hand and creates a costume but it can also be treated as two separate elements – thongs and a bra. We are in the prototype stage, however, when we reach a sufficient sales ceiling, we believe deeply that our costume has the potential to become a sales hit. At the beginning, the classic bikini costume was very objectionable, now no one considers it controversial. The same will be with our clothing based on hippie counterculture. Although it is openwork, it protects female miracles from lustful eyes, but does not reject it completely. Our mission is to give beauty and to modernize marriage (erotic) life.

All rights reserved.

Hippie Bikini is a branded product of the hippie network (together with the Estrella brand ambassador – Hippie Superstar) a New Generation cooperative, which will eventually use coop-units instead of classic currency or bitcoins. Therefore, every buyer of the Hippie Bikini suit will receive as a bonus some part of the coop-unit. It is the money medium stored on the server but also on the physical carrier of information, as well as on the list of transactions of the New Generation Cooperative "Hippie New Generation". This kominiku will be absolutely digested. It will be possible to report for 5, 50 or even 100 years, it can be passed on to another person, but this fact has to be submitted to the cooperative. In this way, we create an individual mechanism of communication through the medium of money that differs from the classic money market in that it is absolutely transparent, can not be faked and can not be used for unethical or unlawful activities.

This is a manual work, in a relationship every costume is unique and there are no two identical copies. Each produced costume receives a unique number, which is why when buying Hippie Bikini we are sure that it will be an original and unique product.

It can also be treated as a unique jewelry. At the client's request, in addition to ordinary glass beads, it is possible to woven into the outfit of semi-precious stones, pearls as well as precious stones as well as fittings made of gold, silver, platinum.

Each individual product sent to the customer is stored in the system. Everyone will be able to check that the costume you own will be original.

This way of selling certifying the originality of the product and securing it against counterfeiting is the intellectual property of the author. All rights reserved
The Superstar band was created from the need to create music for the HB project. Team members form a cooperative in which everyone has equal rights and all decisions are made on the basis of democratic choice.